Kranz & Smith Panama Brilliant Cut 2 Part Footed Bowl, Antique ABP Glass 1904 9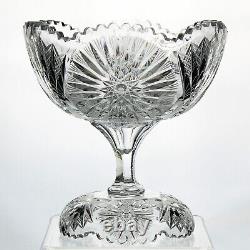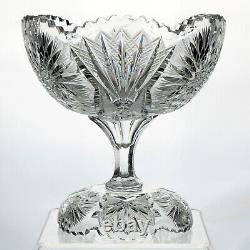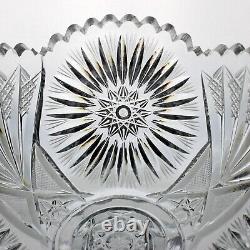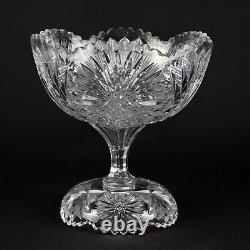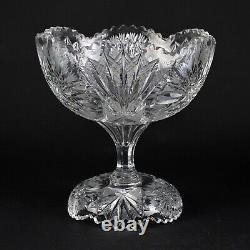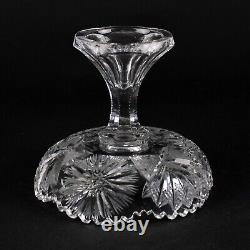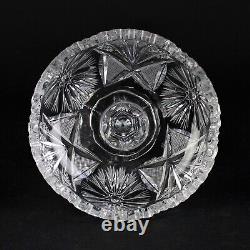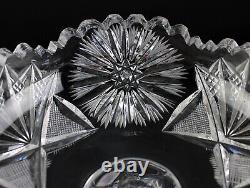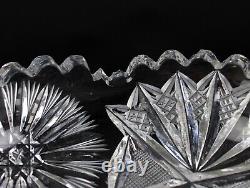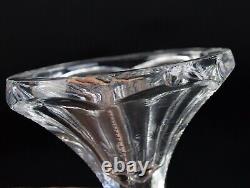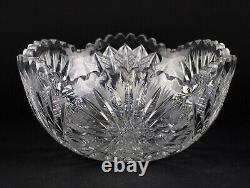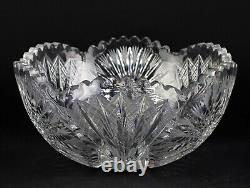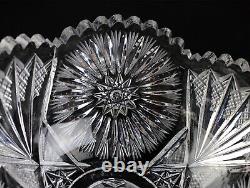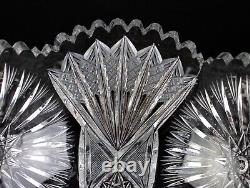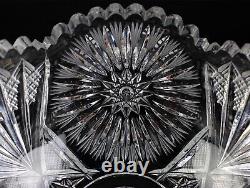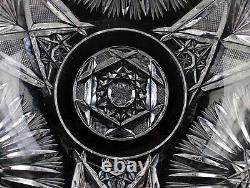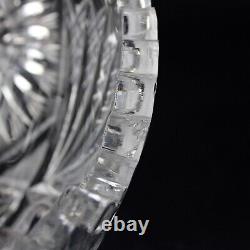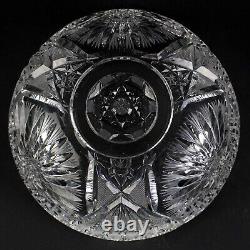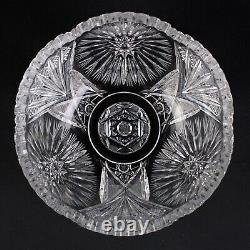 Kranz and Smith; Kranz and Sell; GW Huntley. 2 Part Punch Bowl; Fruit Bowl on Stand. Flashed Sunburst, Fans, Strawberry Diamonds.
Crystal; Clear with Gray Cuts. Antique American Brilliant Period (ABP) Cut Glass. Measurements: Bowl: 9" diameter and 4 3/8" high. Base: 6 1/8" outer diameter and 5 1/4" high.
Weight, prepackaged: 6 lbs 7.4 oz. Condition: The base has some minor wobble on a flat table, which disappears with a tablecloth. The cuts are well planned and executed with the only notable errors being on the strawberry diamonds of the base which bleed past the miter cuts toward the stem. The glass is crystal clear with nice clarity, superb resonance and a slight green glow under UV light.
The bowl has some minor chipping on the rime none of which effect the height or shape of the tooth or are easily seen. I can't find any chips or fleabites on the exterior cuts or the base. There are no notable marks or scratches from use or storage. The bottom has only a few slight shelf wear marks.
The base is compote shaped and has 3 chipped teeth, 2 of which effect the height. There is some chipping around the edge that makes contact with the bowl. I can't find any chips or fleabites on the cuts. The pattern can be found in a 1904 Kranz and Smith, 1912 Kranz and Sell, 1913 FB Tinker and 1913 GW Huntley catalogs (I don't own a copy of the later, but it's referenced in Pearson's Encylopedia I).
The form with the pattern doesn't appear in any of the three I have, but other patterns on the same form are in the 1912 and 1913 catalogs. Pictures are of the item(s) you will receive.

---