Beautiful Early Cambrige Etched Glass Fruit/Punch Bowl & 4 glasses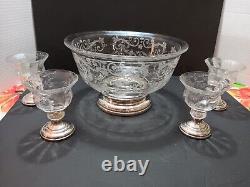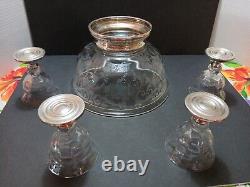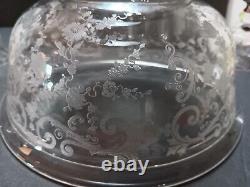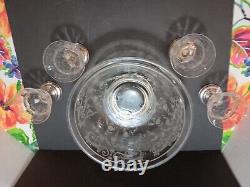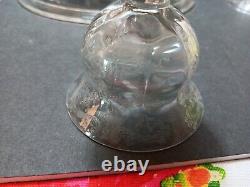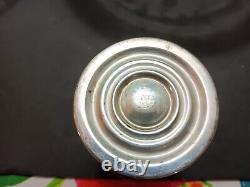 Ladies, this is an early Victorian Era, STERLING WEIGHTED, Etched Glass Fruit/Punch Bowl with 4 Glasses. It may be Heisey or Cambridge glass. Time period is sometime between 1700's to late 1800's. Designer's stamp is a profile of a man's head with a beard and an L stamp which probably stands for London. Investigated it but there are many glass Co's such as Allied and Ardagh so it is hard to ascertain it's origin.
May be fruit or punch bowl. Either way this is an exquisite piece of art. As stated earlier these are STERLING WEIGHTED. Mouth of bowl is 9 1/4" wide and it is 5 1/2" tall with base. Glasses are 3 1/2" deep and 3 7/8" tall while diameter of mouth is 3 1/8.

---